Give Back Attack: Popeyes Famous Chicken Sandwich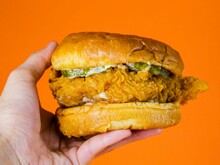 Remember when Popeyes' biscuits were all the rage? Well, they still are, but now we have another winner in the champion's ring, and that is Popeyes Louisiana Kitchen's world-famous chicken sandwich!
We can thank Synergy Franchising for bringing Popeyes to Edmonton and Northern Alberta. Not only are they insanely good at taking care of their customers and employees, they also genuinely care about the communities they serve.
As such, they have sponsored our newest Give Back Attack! See below as we hand out nearly one hundred famous chicken sandwiches and care packages to those who call Edmonton streets their home:
Okay, now I'm hungry...
Thank you, Synergy Franchising!