Give Back Attack! - Can't Stop the Bannock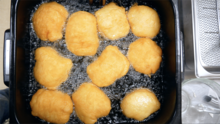 We here at the Can Man Dan Foundation absolutely love to partner with small and local businesses in Alberta as we truly believe they help form the heart and soul of our communities.
For our latest episode in our Give Back Attack! series, we had the pleasure of teaming up with Tee Pee Treats Indigenous Cuisine, a new, locally-owned restaurant here in Edmonton! Owner Curtis Cardinal showed us how he makes his world-famous bannock and we then hit the road to deliver hot, fresh batches to some excellent non-profit and charitable organizations in the city.
In this video, we wanted to highlight how simple it is to spread kindness and brighten others' day through the joy of fresh bannock!
A huge thank you to Curtis Cardinal and Tee Pee Treats Indigenous Cuisine for their tasty treats and amazing spirit! You can check out their full menu and more about their food services here.