Give Back Attack: Can't Stop the Coffee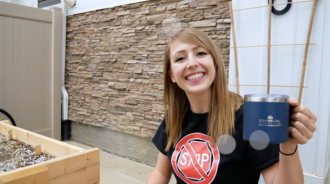 I would argue travel mugs are one of the greatest inventions out there. They keep your favourite beverages hot or cold, are easy to carry around, and can look so good that you just can't help but show them off.
We are proud to present our newest, limited edition travel mugs, with proceeds going to the Can Man Dan Foundation to help those in need.
With two beautiful designs and four classy colours in each, these are high-quality products that make for excellent gifts.
Watch Dan, Kelsie, and Samaa bring smiles to others with our travel mugs in our newest Give Back Attack!
When you're ready to order yours, click here to send us a message and we will get back to you as soon as possible to coordinate delivery within Edmonton.
Here at the Can Man Dan Foundation, you can't stop the good coffee!