Give Back Attack: COVID-19 Emergency Packages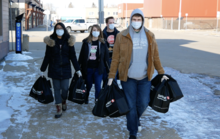 It seems this global pandemic has set everything off-kilter; from practising social distancing to getting through the accompanying economic crisis, we know times are tough. But at the end of the day, nothing is more important than keeping ourselves and our loved ones (and even our fellow neighbours) safe and healthy.
We strongly felt the need to step up and help those vulnerable populations that may not be able to successfully combat the coronavirus without extra resources. In partnership with Jobber, an amazing company providing award-winning software for small home services businesses, we hit the streets to provide Edmonton's homeless population with COVID-19 Emergency Packages - a gift from us to those who need it most.
Thank you, Jobber, and thank you to all our generous supporters for making this gesture possible.