Give Back Attack! - The Most Expensive GBA Ever!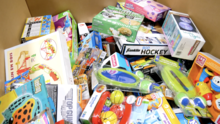 It's finally here! After hinting at it over the course of Season 2, we are happy to announce that the most expensive Give Back Attack! is ready for your viewing pleasure!
We were fortunate enough to hand out $45,000 in brand-new toys to six different organizations in Edmonton and area who help kids in need. And, of course, in true GBA fashion, we did it with some fun and laughter along the way!
We visited WIN House, Kids Kottage, Fulton Child Care Centre, 630 CHED Santas Anonymous, Cohesive Communities, and Moms Canada to light up the lives of the kids in their care.
The charities and non-profits we helped in this episode were running low on much-needed toys due to COVID-19 restrictions and we are so glad we were able to step in and stock their shelves chock full of stuffies (including lots of Baby Yodas), Lego, Hot Wheels, board games, action figures, Barbies, and much much more!
A huge thank you to The Transport Guys for being our official transportation provider for this video (and for the Can Man Dan Foundation!); they are absolutely amazing to work with and we are so grateful!
We hope you enjoy following along with Dan, Kelsie, and Samaa as they bring smiles and tons of TOYS to some fantastic charities because we're all in this together. Thanks for watching!