MHCare Medical's Seeds of Hope Campaign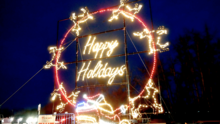 Our President, Dan Johnstone, had the pleasure of visiting Castrol Raceway yesterday to meet our friends at MHCare Medical for their Seeds of Hope campaign. Join in the festivities at MHCare Medical's and Canadian Tire's spectacular Magic of Lights show to see beautiful holiday-themed displays and drop off your brand-new clothing items and winter accessories for the Hope Mission and The Mustard Seed.
A huge shoutout to MHCare Medical for their amazing community spirit and helping those in need this holiday season! To find out more about them and how they support our 2020 heroes, frontline healthcare workers, visit
www.mhcaremedical.com
.
This is the perfect time of year to support and uplift one another. A very big thank you to everyone from the Can Man Dan Foundation for your continued support throughout the year. Merry Christmas and Happy Holidays!