We're Here For Ya Day 2022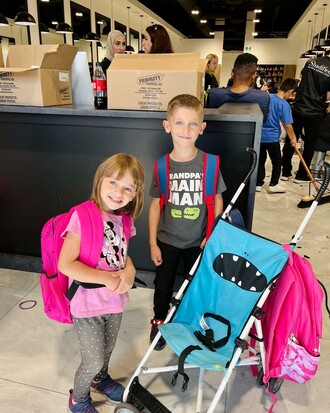 We did it again, Edmonton! Despite a severe lack of funding and a ton of unforeseen problems, the tenth annual We're Here For Ya Day proved to be an unstoppable force as we still managed to help over 1200 low-income children and their families with backpacks, school supplies, food hampers, and the best back-to-school haircuts in the city! 
A very special thanks to Shadified Salon and Spa, Edmonton's Food Bank, PIPSC-IPFPC, The Transport Guys, and No Bull RV for being proud partners of our tenth annual We're Here For Ya Day back-to-school event! With the demand being as high as it was, we honestly could not have done it with out your help and support. We literally live and breath with the support of our partners, so thank you so much for stepping up to help us.
For ten years, this event has helped thousands and thousands of low-income children return to school with confidence and excitement. Since the inception of We're Here For Ya Day, we have helped nearly 25,000 low-income children and given out over a $1 million dollars in materials to help with the stresses of back-to-school and life at large. 
While we unfortunately couldn't help everyone this year, we are incredibly happy with the smiles we did create and the joy we brought to the community. Thank you to everyone who donated, shared, or helped put this event together, it was truly a team effort and we can not wait to do it again next year!
- Daniel