"We're Here For Ya!" Day 2019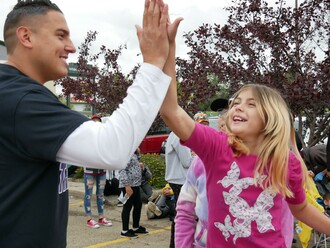 Possibly our foundation's biggest event to date, the eighth annual "We're Here For Ya!" Day was a resounding success, with a turnout of over two thousand people in attendance. With access to free food hampers, haircuts, high-quality backpacks (with school supplies inside), and a hot BBQ lunch, we are honoured to have given low-income families a proper start to the new school year.
The Can Man Dan Foundation team spent long (long) hours building food hampers, stuffing backpacks with supplies, and transporting everything to our venue. It was all worth it; it's truly rewarding to know that these kids can now go back to school confident and prepared to succeed; our future generation deserves to feel ready and able in the classroom.
A huge shout-out to our amazing partner, Shadified Salon and Spa. Despite having multiple locations and insane success (servicing high-profile clients such as the Edmonton Eskimos!), this is one of the most family-oriented and caring brands we have ever come across. The White Oak Square staff donated a full day's worth of cutting hair, cleaning up, and heavy lifting to fulfill our objective. We are so grateful to the entire Rahall family for investing their time and energy into making this event possible and incredible.
Until next year, a huge thank you to our sponsors, well-wishers, and volunteers. And especially donors like you.